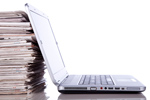 Innovative Magazine Publishing Solutions
Pre1 Software has over 15 years experience building and designing software for newspapers, magazines and digital publications. Our magazine software platform, SmartPublisher™, is a cross-platform publishing and ad management software suite that has, among it's many features, contact relations management, ad order entry, magazine production trafficking, billing and an extensive set of reports.
Using modern technology to solve problems for magazine publishers, Pre1 continues to innovate for the future.  Pre1's agile development process ensures our magazine software will adapt to the demands faced by magazine publishers.
Pre1 provides award-winning customer service to more than 650 publications who rely on SmartPublisher™ to streamline the publishing process.